A good burger is one of those summertime staples that evokes so much nostalgia, but they've often been either out of reach or simple unsatisfying for those of us who don't eat meat. These days, us vegans are lucky to have a ton of different pre-made veggie burger options available at our fingertips. However, these are often very processed and full of unnecessary ingredients. As a Natural Chef, I always love to make my food from scratch, so I created this delicious Garbanzo Beet Veggie Burger to satisfy my burger craving!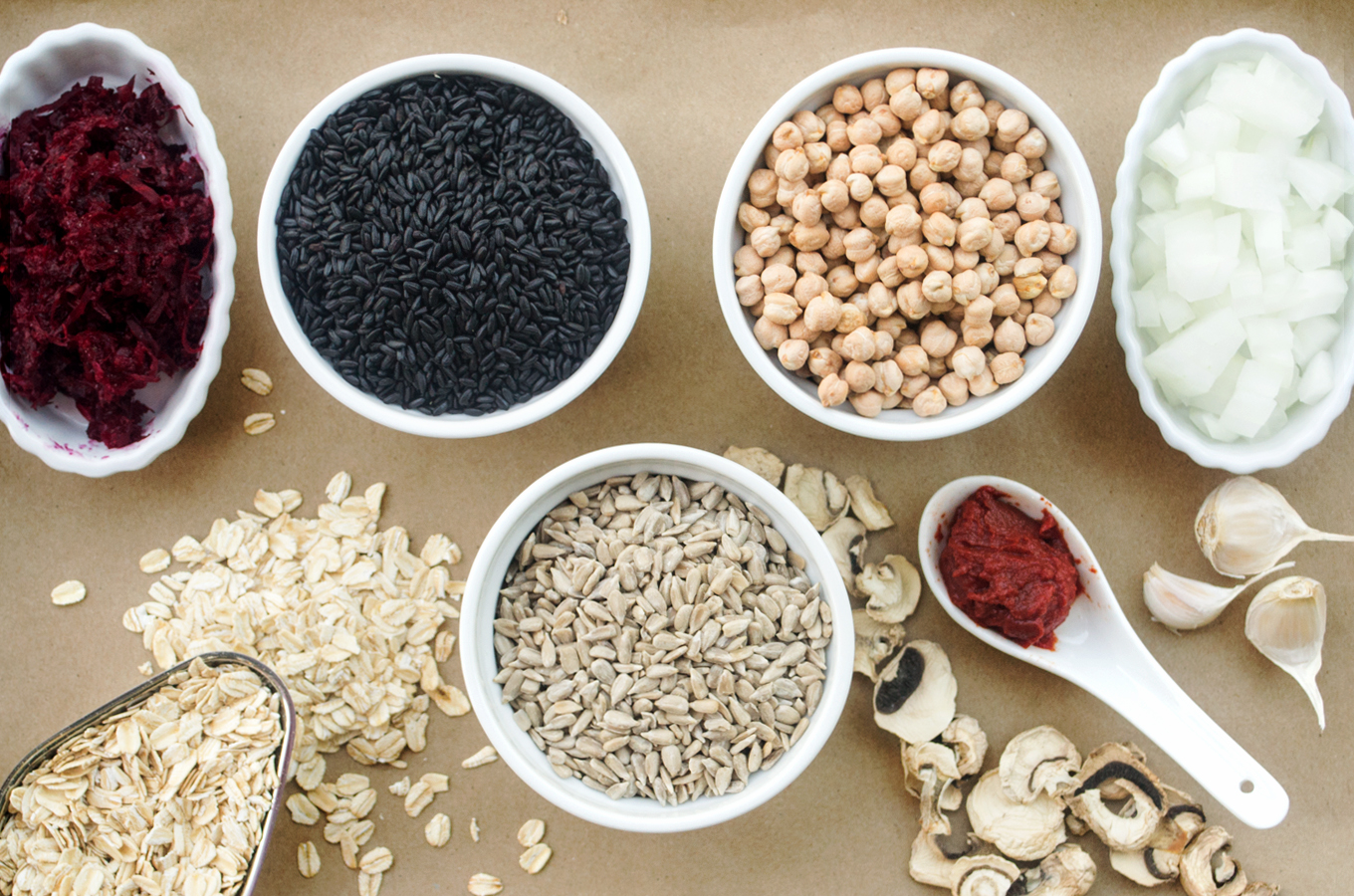 What About Protein?
Having been vegan for over a year now, I've gotten quite used to people wondering where my protein comes from. I'm always happy to debunk the common misconception that people need to consume animal products in order to get enough protein in their diets. The fact of the matter is that plants are wonderful sources of protein! When I developed this Garbanzo Beet Veggie Burger, I made sure to include a variety of protein-rich whole food ingredients.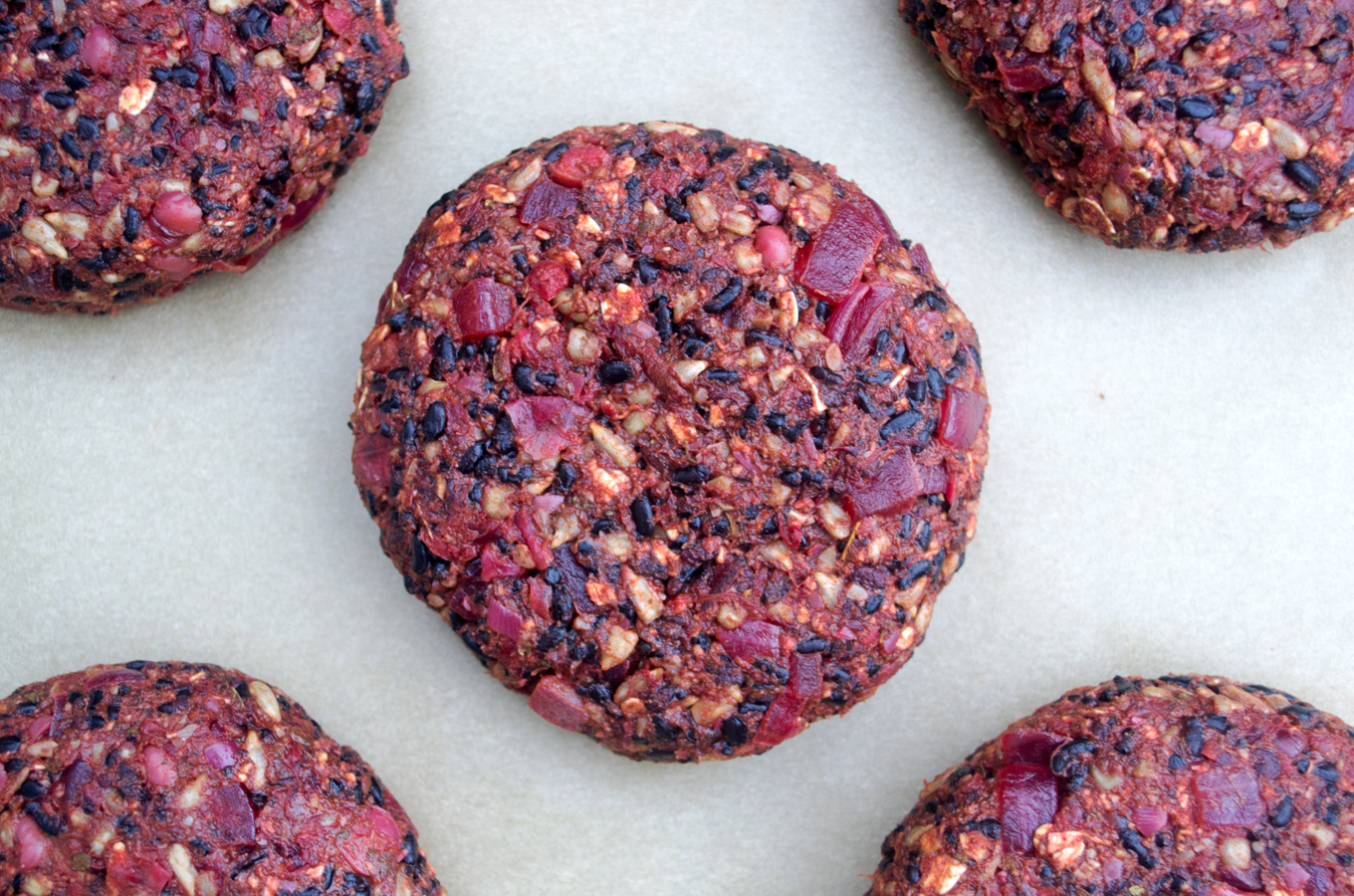 Garbanzo beans, sunflower seeds, and rice are all high-quality protein sources. Additionally, Forbidden rice (a deep purple heirloom rice variety) is extremely high in anthocyanins, which help protect against free radical damage. The ground flax seeds, in addition to acting as a binder, are a great source of omega-3 fatty acids. Oats and beets are both great sources of dietary fiber. Not only are these Garbanzo Beet Veggie Burgers delicious, but they are also nutritional powerhouses.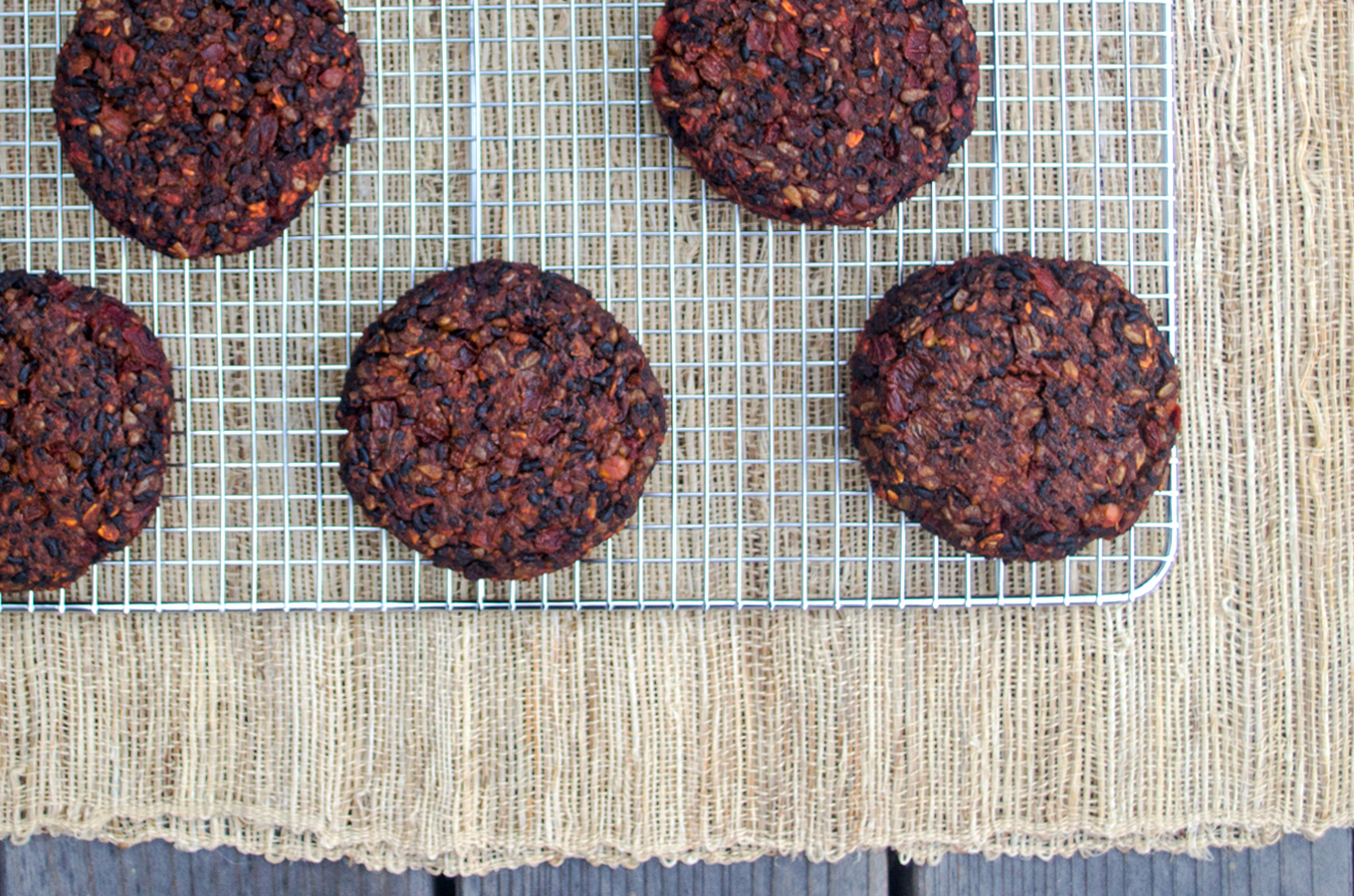 Powdered crimini mushrooms are the secret ingredient in these Garbanzo Beet Veggie Burgers. Dried mushrooms, ground into a powder in a spice grinder, help pack an umami punch to this meal. Additionally, grated beets lend an earthy flavor and dramatic hue to these beautiful burger patties.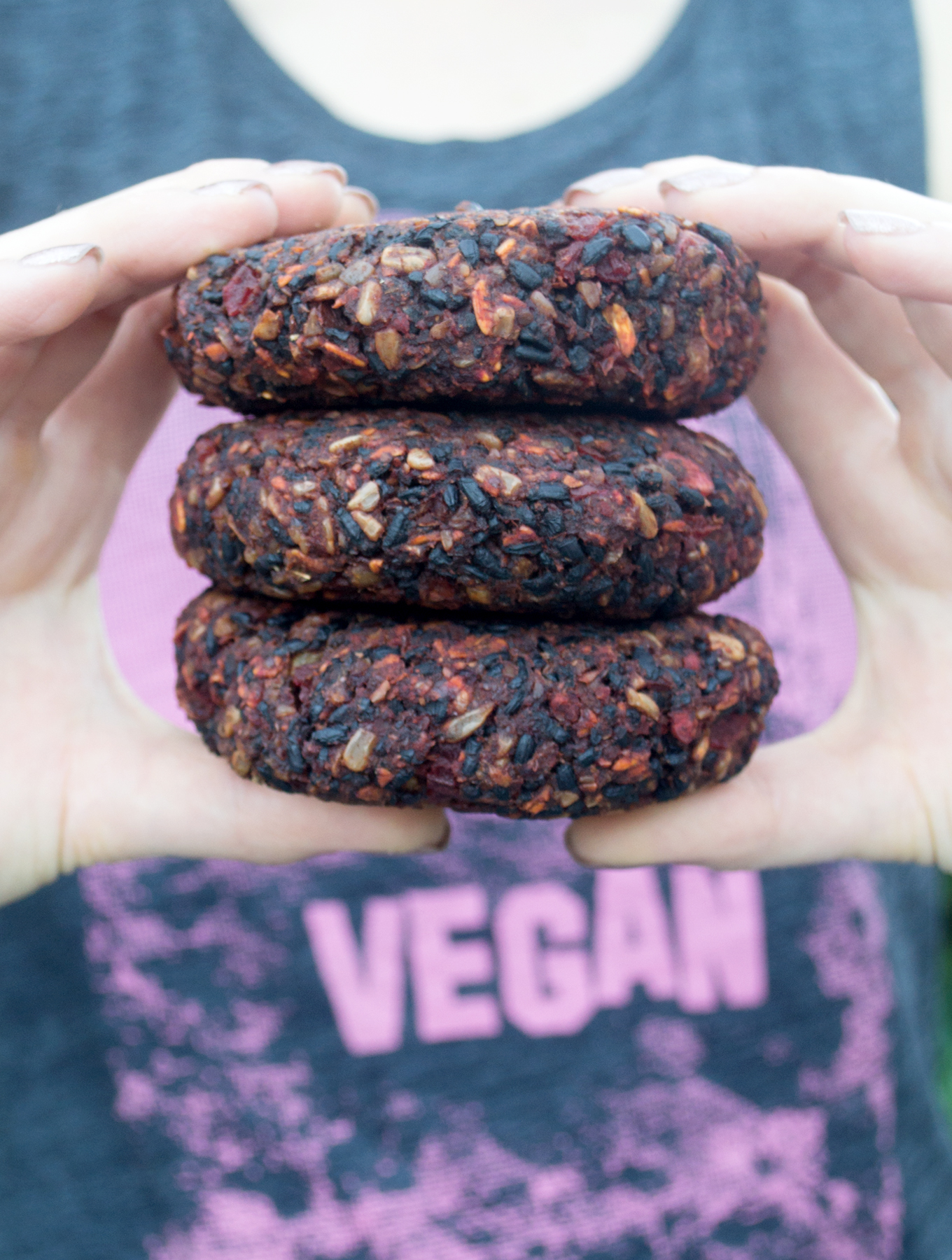 These delicious burgers are truly a vegan dream come true! They're wonderful served on a bun or lettuce wrap, or simply chopped up on top of a salad. The best part is that they're hearty enough to stand up to all your favorite toppings. Personally, I love my Garbanzo Beet Veggie Burger topped with whole grain mustard, greens, and some tangy sauerkraut or kimchi.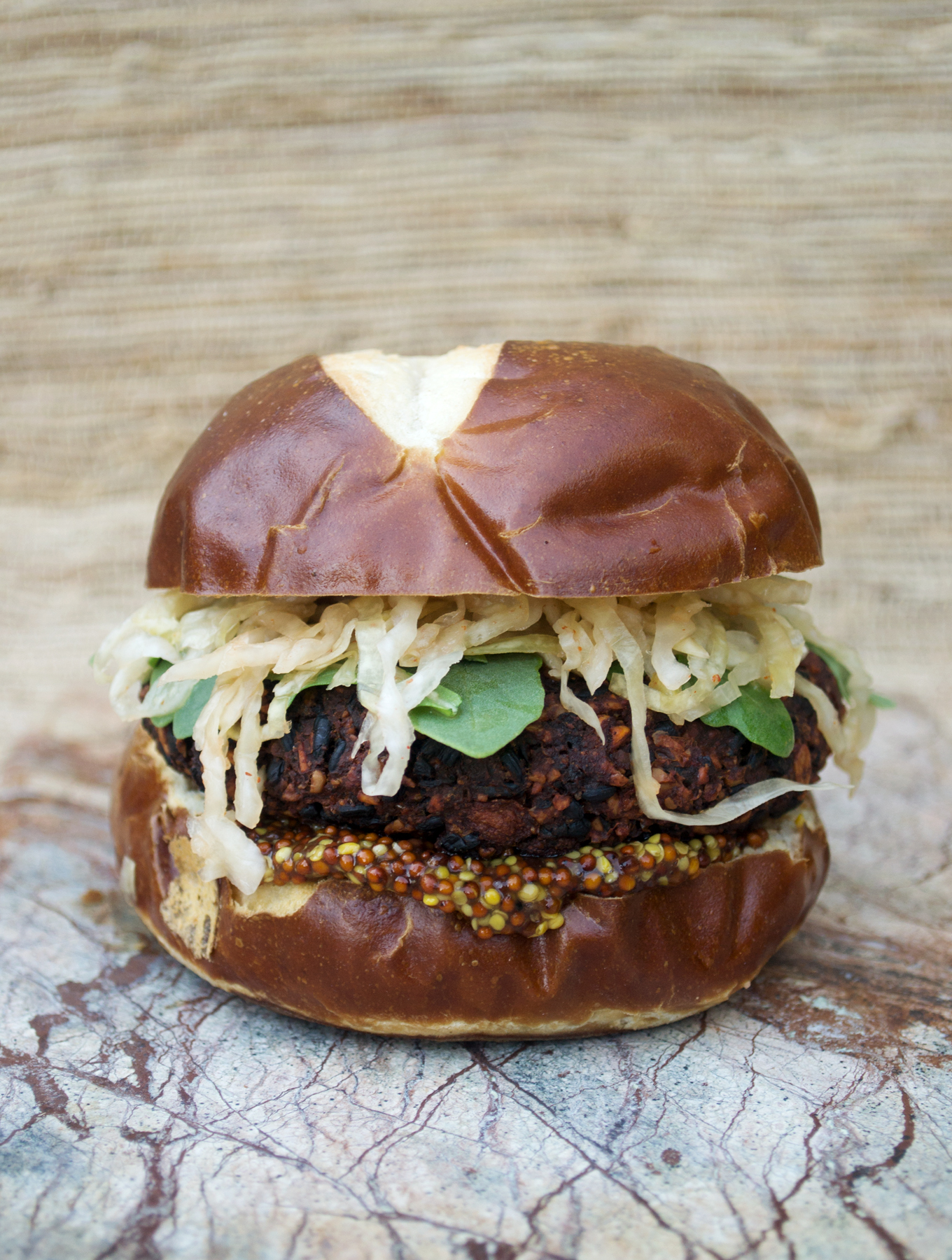 Print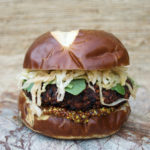 Garbanzo Beet Veggie Burger
Author:

Prep Time:

25 minutes

Cook Time:

45 minutes

Total Time:

1 hours 10 minutes

Yield:

6

patties

1

x

Category:

Main
---
Description
Powdered crimini mushrooms are the secret to imparting a delicious umami flavor in these veggie burgers. Filled with beans, whole grains, and seeds, these burgers are loaded with protein and are full of flavor. The grated beet and forbidden rice lend a dramatic hue to these beautiful burger patties. You can serve on a traditional bun, make a lettuce wrap, or even make miniature patties to serve as appetizers.
---
Scale
Ingredients
1 Tbsp

olive oil

1

onion, finely diced

2 tsp

sea salt, divided

4

cloves garlic, minced

1/4 cup

plus 1 Tbsp water

2 Tbsp

ground flax seed

1 cup

cooked garbanzo beans

2 cups

cooked Forbidden rice (see note)

1/2 cup

finely grated beet

1 cup

sunflower seeds

1/2 cup

gluten free rolled oats
.5 oz dried crimini mushrooms, powdered in spice grinder or food processor

3 Tbsp

nutritional yeast

2 tsp

oregano

2 tsp

smoked paprika

1 tsp

chipotle powder

1/4 cup

tomato paste

2 Tbsp

coconut aminos

1 Tbsp

chickpea miso
---
Instructions
Preheat oven to 375° F.
In a medium pan, heat olive oil over medium heat. When oil shimmers, add onions and 1/2 tsp of the salt. Cook, stirring often, until onion is softened and translucent, about 5 minutes. Add garlic, stirring often until fragrant, about 1 minute more. Remove from heat and set aside.
In a small bowl, add water and flax seeds and stir to combine. Set aside until mixture has thickened, about 5 minutes.
In a large bowl, add garbanzo beans and roughly mash with a potato masher until most beans are crushed but some chunks remain.
Add rice, beet, and reserved onion and garlic to the garbanzo beans and stir well to combine.
In a food processor, add sunflower seeds and pulse several times until coarsely chopped. Add rolled oats and pulse several more times. Mixture should still be chunky and not powdery. Add to garbanzo bean mixture and stir well to combine.
In a small bowl, mix mushroom powder, nutritional yeast, oregano, smoked paprika, chipotle powder, and remaining 1 1/2 tsp salt, stirring well to combine. Add to garbanzo bean mixture and mix well to incorporate.
In a medium bowl, add tomato paste, coconut aminos, and chickpea miso. Whisk well until combined, then add to garbanzo bean mixture. Add reserved flax mixture and mix very well until wet ingredients are well incorporated.
Form dough into 6 patties and place on a parchment-lined baking sheet. Bake for 40 to 45 minutes, until patties are firm and exterior is slightly crispy.
---
Notes
This recipe calls for Forbidden rice, which is an heirloom variety of rice with a very deep purple color. If you can't find this variety, brown rice can be substituted.