Hello, and welcome to Sprouts And Krauts! My name is Alana, and I'm a recent graduate of the Natural Chef program at Bauman College in Berkeley, California. I have a passion for vegan, plant-based cooking, fermentation, and raw foods.
Before coming into the culinary world, I was a graphic designer, spending most of my time behind a computer. Despite thinking of myself as a healthy eater, in April 2017, I was feeling overweight, tired, and unmotivated. I made the decision to try a vegan diet and my life was forever changed. Not only have I lost over 20 pounds, but since becoming vegan, I have seen massive improvements to my own health, energy, and well-being.
After experiencing the benefits of a plant-based diet firsthand, I wanted to expand my knowledge of the topic. This is what brought me to Bauman College and into the world of food and nutrition. I was originally looking into several different nutrition consulting programs, but when I found out about the Natural Chef program at Bauman, I was intrigued. I didn't know a program like this, combining culinary skills with holistic nutrition and health, even existed! [Skip to recipe]
Going through the Natural Chef program at Bauman College has been one of the most rewarding experiences of my adult life. We've covered so many interesting topics during this program, but perhaps the most fascinating has been everything I've learned about wild fermentation. I love experimenting with different ferments and sauerkrauts, and it was enlightening to learn about all the health benefits that fermented foods provide. Additionally, I have long been intrigued by raw foods and have been experimenting with sprouting and dehydrating for many years. I decided to create a recipe blog where I could combine these interests along with my love of vegan recipe development.
As a result, Sprouts And Krauts was born! I am excited to have a place to share my newfound knowledge with others. As a Natural Chef, my goal is to inspire and empower people to venture into the world of plant-based eating. I want to show that following a vegan diet can be easy, healthy, and delicious.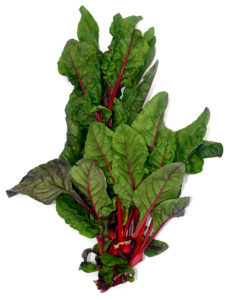 As a Natural Chef, I've learned how important it is to eat seasonally and locally. I'm lucky to live in Northern California, where beautiful weather and a thriving garden keep me rich with seasonal fruits and veggies throughout the year. But sometimes this bounty can lead to produce overload! Surely anyone with a garden can relate to the dilemma of suddenly having way more produce than they know what to do with.
I recently had this experience with the last of my rainbow chard harvest. While I love steamed or sautéed greens, I wanted to take the opportunity to try something new with the chard stems. Chard stems are often discarded because they can be a bit fibrous and tough. Not only does fermenting help to soften the stems, but it's also a wonderful way to naturally preserve produce. Furthermore, the fermentation process gives the chard stems a wonderfully sour, tangy flavor. I love to use these chard stems as a substitute for sauerkraut or relish, or simply tossed on top of a salad or grain bowl.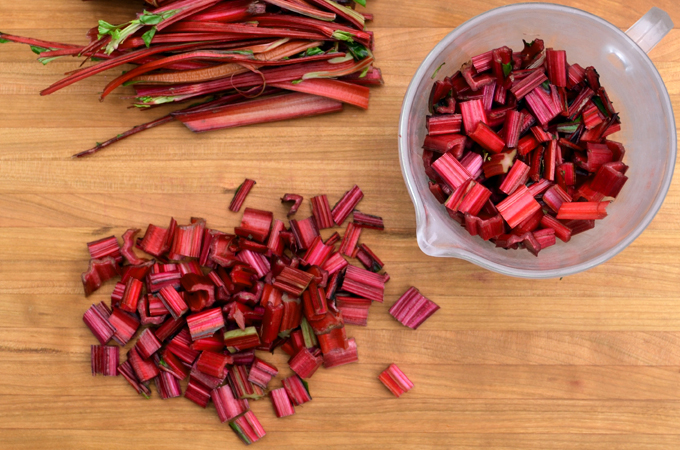 With only three ingredients, this basic fermentation recipe couldn't be simpler, and the beauty of it is the fact that it's completely adaptable to whatever veggies you may have on hand. You can pick your favorites, or use whatever you're currently harvesting from your own garden. Have fun adding spices and seasonings as you see fit. I've had wonderful results using this basic brine recipe for many different ferments, including garlic, radishes, hot peppers, and cauliflower. Just be sure to keep the salt to water ratio the same, but otherwise you can let your imagination be your guide. I'd love to hear what kind of ferments you come up with! Leave a comment to let me know.
Enjoy and check back soon for more vegan recipes featuring sprouts and krauts!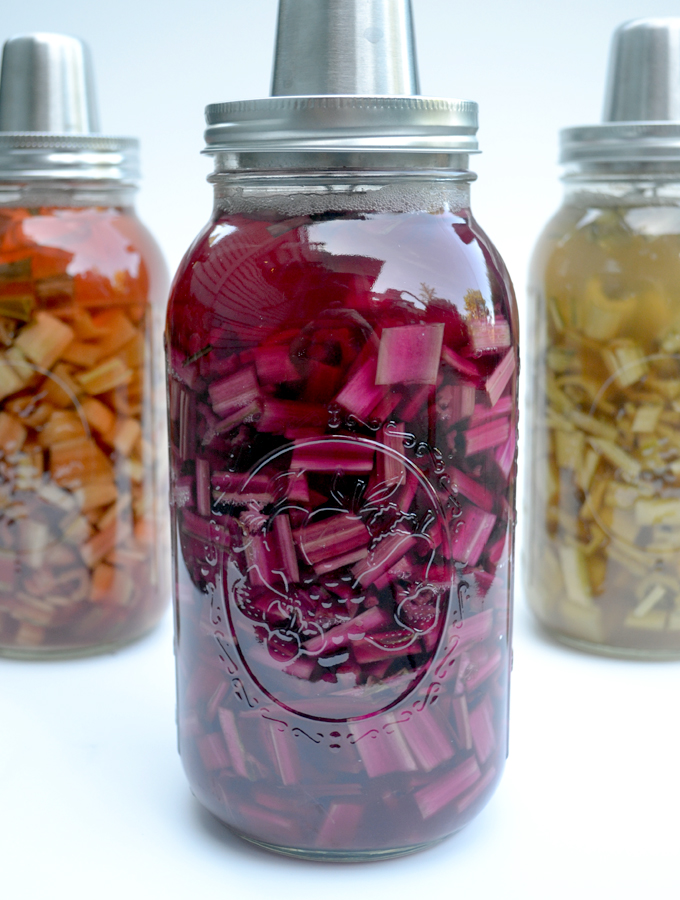 Print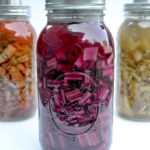 Fermented Chard Stems
Author:

Prep Time:

45 minutes

Cook Time:

5 minutes

Total Time:

50 minutes

Yield:

1

half-gallon jar

1

x

Category:

Fermentation

Cuisine:

American
---
Description
Lacto-fermentation is a wonderful way to naturally preserve produce. The process makes use of Lactobacillus bacteria, which naturally exists on the surface of vegetables and is able to convert sugars into lactic acid. Lactic acid, along with being a natural preservative, is what gives fermented foods their wonderfully sour, tangy flavor. The health benefits of the chard stems are amplified by the fermentation process, making the existing minerals easier for the body to digest.
---
Scale
Ingredients
5 cups

water

3 Tbsp

plus 2 1/4 tsp sea salt

7 cups

roughly chopped chard stems
---
Instructions
In a small pot, boil water, then combine with sea salt in a medium bowl. Stir periodically until salt is dissolved. Set aside until brine has cooled to room temperature.
Add chard stems to a wide-mouth half-gallon jar, filling to the shoulder of the jar.
Pour enough brine into the jar to cover the vegetables by 1 inch.
Place Kraut Source or similar airlock device (see note) onto the jar. Place in a cool area away from direct sunlight and allow to sit for 7 to 14 days.
Check daily to make sure the moat of the airlock is filled, and top off with water if needed.
Periodically taste your ferment. Once you have reached your desired level of sourness, remove the Kraut Source, replace with a wide-mouth mason jar lid, and store in the refrigerator, where the ferment will last for several months.
---
Notes
The Kraut Source used in this recipe is available at www.krautsource.com. There are other similar airlock devices available on the market that can be used to seal the fermenting jar so that oxygen is kept out while allowing carbon dioxide to escape.