When the holiday season approaches, I always find myself thinking about ways to simplify life. In between dealing with gifts and preparing holiday dinners, desserts, and cookies, the last thing I want to stress about is breakfast. That's why I love make-ahead breakfasts like this Pomegranate Chia Pudding. Simply whisk a few ingredients together the day before, and you can have a delicious breakfast waiting for you and your family on Christmas morning. It takes minimal time and effort, but looks impressive, beautiful, and seasonal.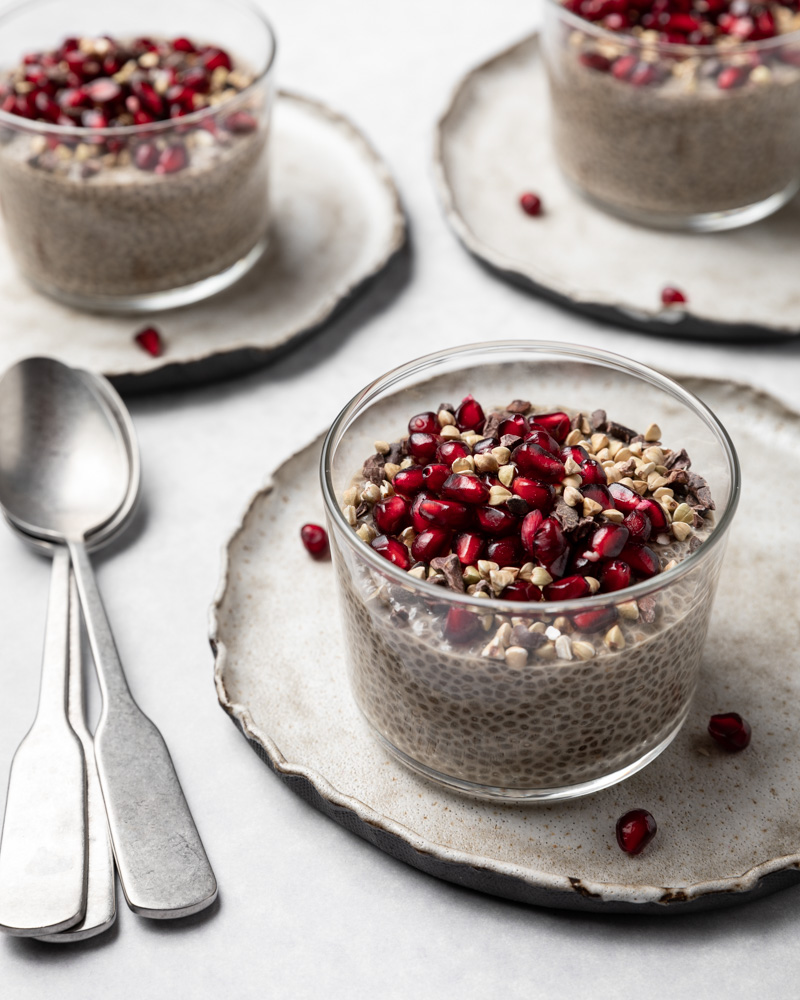 If you grew up in the 1980s like me, chances are you remember Chia Pets, but the humble chia seed has come a long way since those days! In fact, chia seeds are now often referred to as a superfood, due to their high levels of omega-3 fatty acids, protein, and fiber, among other nutrients. Because these tiny seeds can absorb ten times their weight in water, mixing chia with a plant milk and sweetener results in a thick, pudding-like gel.
This recipe takes advantage of pomegranates because here in the United States, they're in season from September through December, just in time for the holidays! Not only does this recipe use fresh pomegranate seeds, but it's also supplemented by a unique pomegranate syrup that acts as the sweetener in the recipe. If you can't get this ingredient, feel free to use a different brand of pomegranate molasses, or substitute maple syrup instead.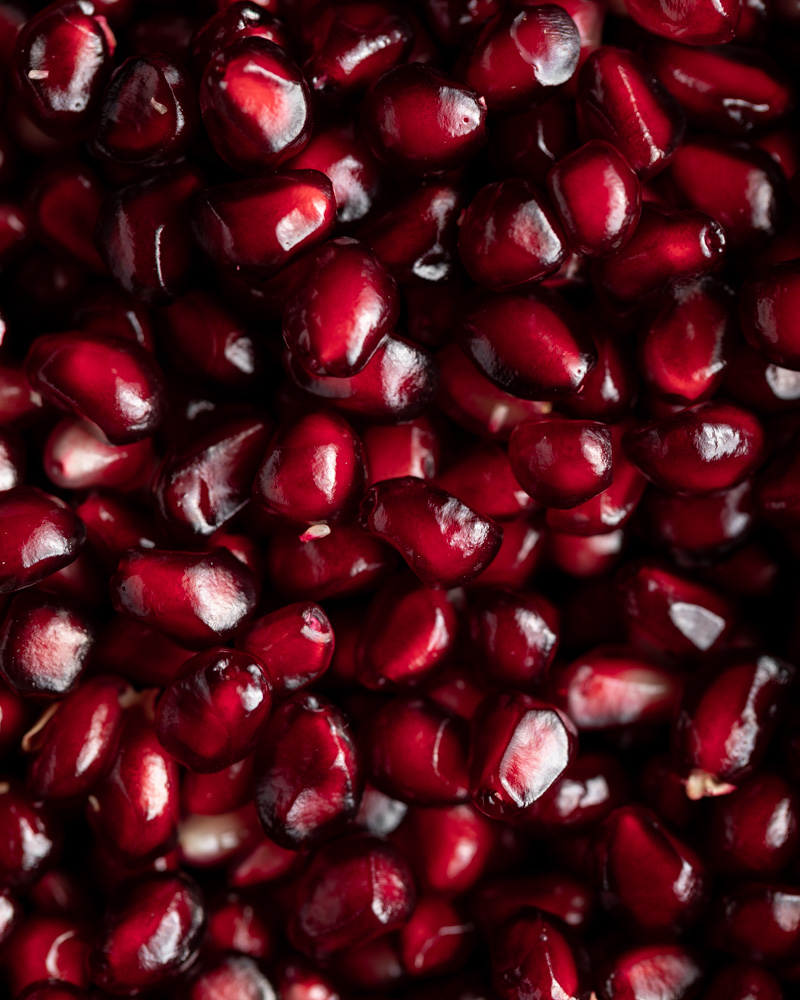 Let's Make Pomegranate Chia Pudding
This Pomegranate Chia Pudding is an incredibly simple breakfast that can be put together quickly and easily. Simply combine the oat milk, pomegranate syrup, and chia seeds in a medium-sized bowl.  Thoroughly stirring every 5 minutes will ensure your chia pudding doesn't get lumpy. After about 15 to 20 minutes, the chia pudding will be thickened. At this point, you can either eat it immediately or cover and refrigerate until you're ready to eat. The chia pudding can be stored in the refrigerator for about a week. Simply wait until serving to add the toppings.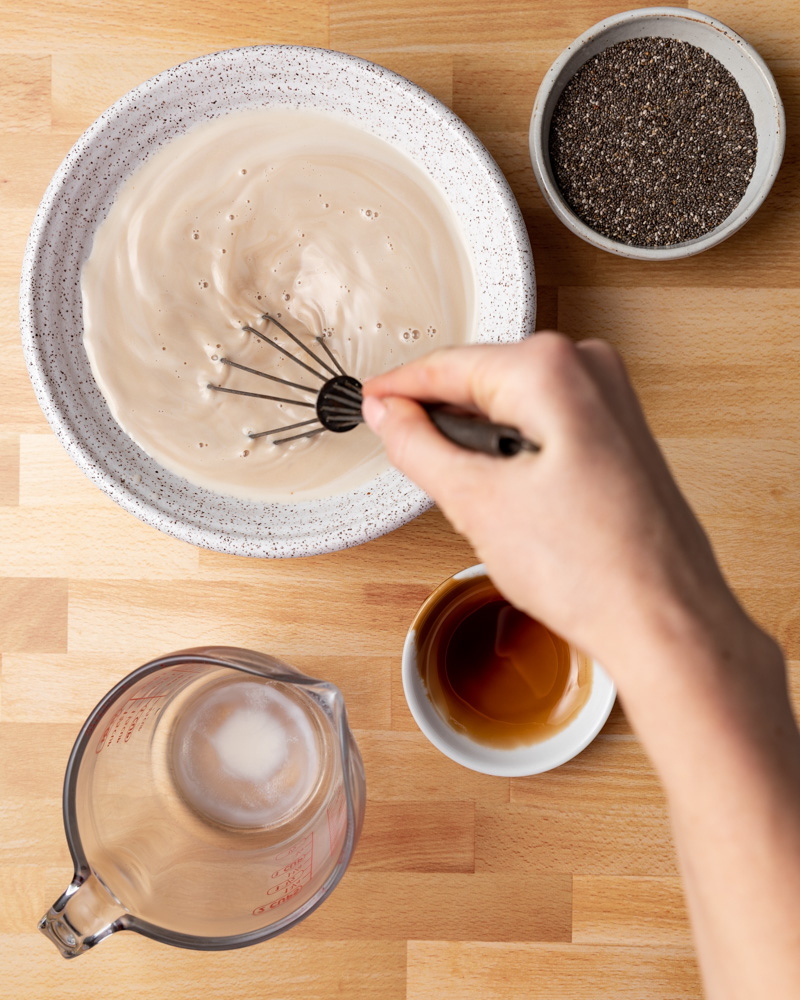 I always love recipes that can be easily customized, and this Pomegranate Chia Pudding is no exception. Simply use a base recipe of ½ cup of liquid combined with 2 tablespoons of chia seeds and ½ tablespoon of sweetener for one serving. Use this ratio as a framework to experiment with your favorite flavors. Almond, cashew, or coconut milk would all be excellent choices for a liquid, while maple syrup or coconut syrup would be great sweetener options.
Chia pudding is a wonderfully versatile meal that's perfect for breakfast or a snack. Topped with tart pomegranate seeds, crunchy buckwheat groats, and cacao nibs, this is a perfectly festive holiday breakfast.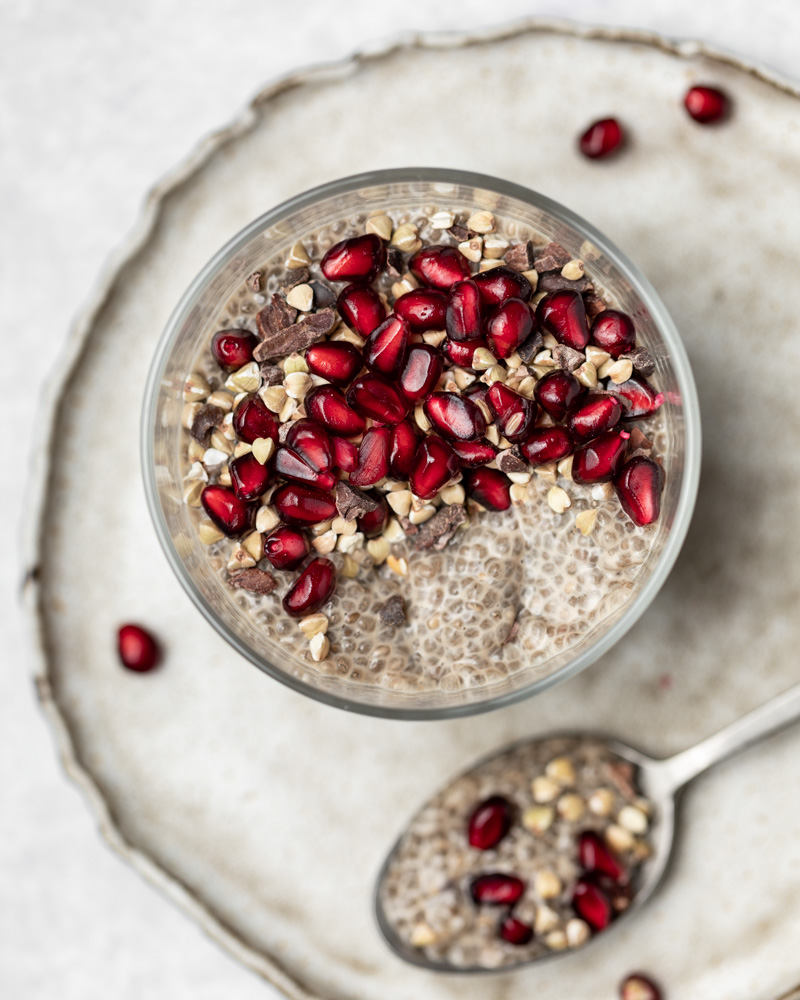 Print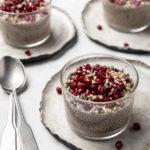 Pomegranate Chia Pudding
Author:

Prep Time:

25 minutes

Total Time:

25 minutes

Yield:

4

servings

1

x
---
Description
Chia seeds are tiny seeds that come from a flowering plant related to mint. Their mild flavor and ability to absorb large amount of liquid make chia seeds a versatile ingredient well-suited for use in puddings, smoothies, and baked goods. Combining chia seeds with oat milk and pomegranate syrup creates a perfect make-ahead breakfast.
---
---
Instructions
In a medium bowl, add oat milk and pomegranate syrup and whisk until combined.
Add chia seeds and stir well to combine, scraping down sides of the bowl as needed. Let sit for about 15 to 20 minutes, stirring every 5 minutes to keep lumps from forming.
Once chia pudding is thickened, divide equally among 4 serving bowls. Either serve immediately, or cover and refrigerate until serving.
Just prior to serving, top with pomegranate seeds, buckwheat groats, cacao nibs, and a drizzle of pomegranate syrup, if desired.
---