When I'm craving a healthy meal that I can really sink my teeth into, this Vegan Mexican Bowl is one of my favorite things to prepare. This delicious Mexican-inspired meal features a bed of crisp romaine lettuce topped with brown rice, black beans, and salsa. Cauliflower florets roasted in a fragrant blend of spices adds some heat to the dish. Next, slices of jalapeño peppers, creamy avocado, and crunchy pepitas are added. Finally, a squeeze of lime juice and a drizzle of vegan sour cream rounds out the satisfying meal.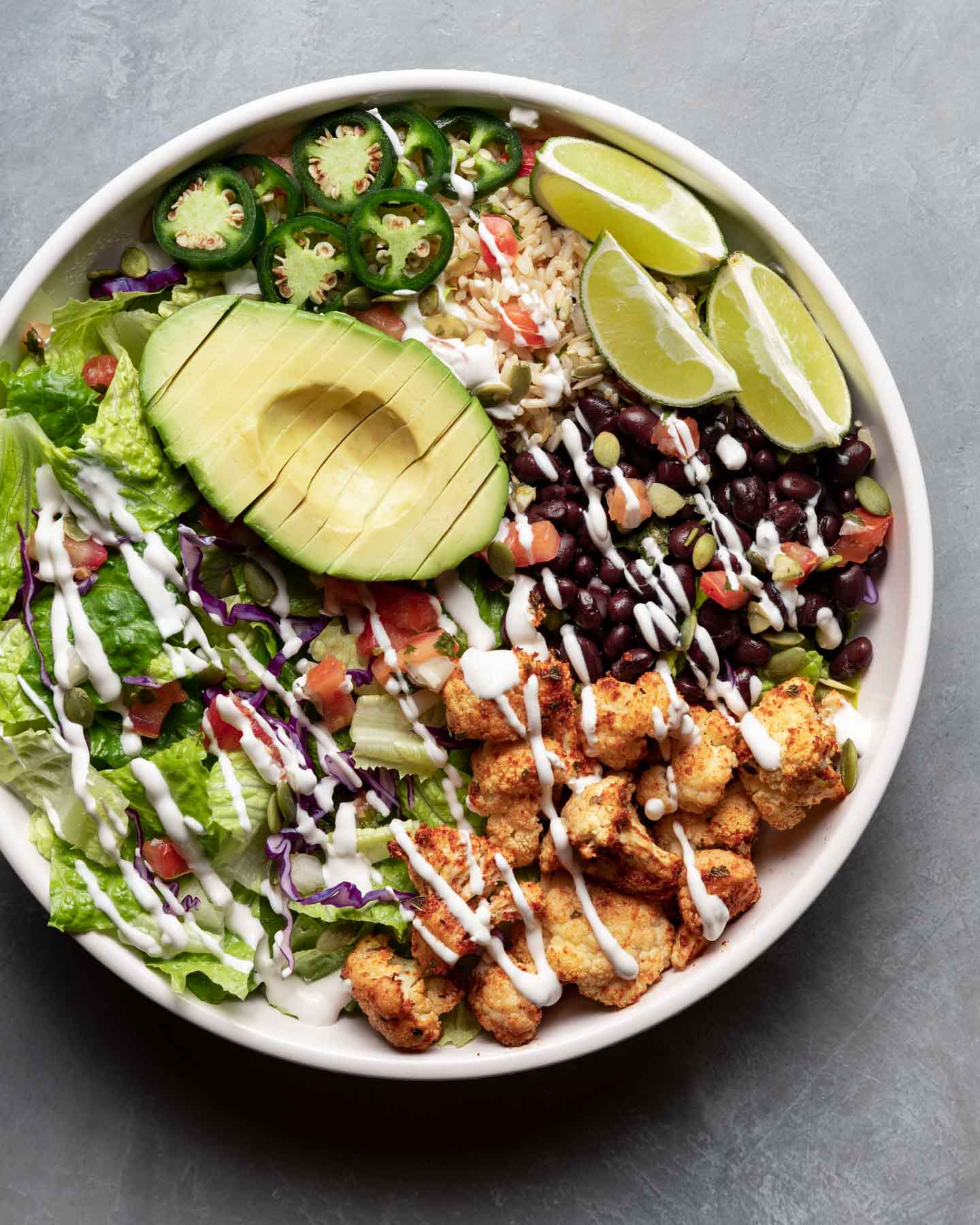 It's Time To Make A Vegan Mexican Bowl
I know that the thought of following a vegan diet can be intimidating. It certainly was for me when I first started out! After many years of following the Standard American Diet, it can feel confusing to know how to eat as a vegan. However, the concept of a Buddha bowl is a great help when it comes to making a delicious, nutritious meal quickly and easily.
Buddha bowls are a great way to put together an easy meal that checks off all the nutritional boxes. My basic formula for creating a Buddha bowl is as follows:
A base of greens, like romaine, spinach, or arugula
Grains, such as brown rice, farro, or quinoa
Protein, such as beans, lentils, or tofu
Raw, steamed, or roasted vegetables of your choosing
A healthy fat source like avocado, nuts, or seeds
A flavorful topping or sauce, such as salsa, guacamole, or hummus
The beauty of a Buddha Bowl is that it's completely customizable. Mix and match your favorite ingredients, switch things up with different sauces and spices, and feel free to experiment! In this recipe, using spices like cumin, cayenne, and chili powder, as well as accompaniments like salsa, jalapeño peppers, and vegan sour cream, creates a Mexican-inspired bowl filled with bold flavors.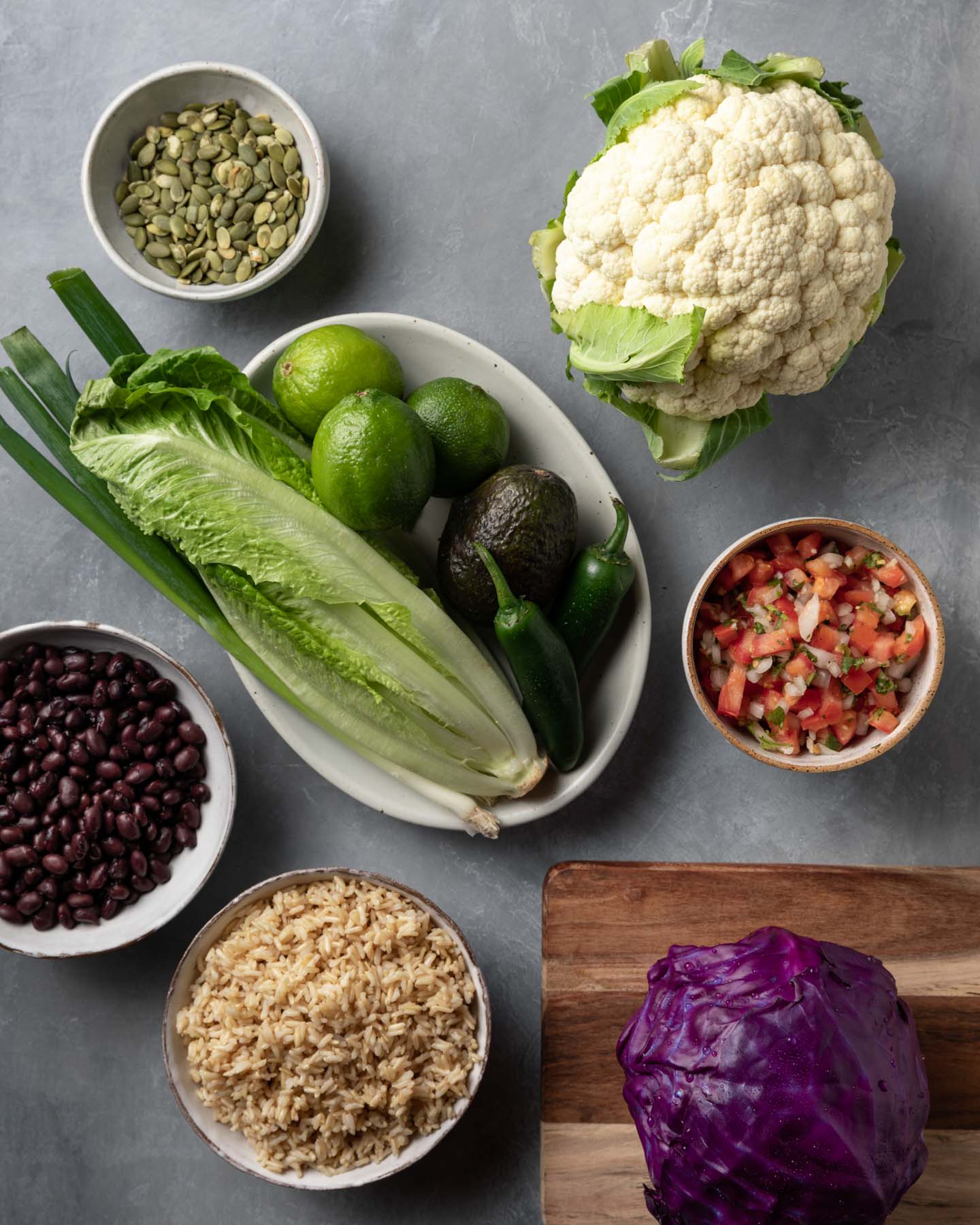 Bean Options
This recipe calls for cooked black beans. I know that plenty of people have a meal prep routine where they cook large batches of grains and beans each week, either on the stovetop or using an Instant Pot. If you're in this situation, then more power to you! Having grains and beans prepped ahead of time means much of your work is already done for you in this recipe. However, if you're short on time, simply use a can of black beans instead. In fact, I love using canned beans as a time saving option, provided that they are organic, made with no added salt, and come in a BPA free can. I love Eden Organic beans because they satisfy all three of those requirements, and are absolutely delicious. Plus, they use kombu seaweed in the preparation of their beans, which makes them easier to digest.
Regardless of whether you use canned beans or prepare your own, black beans boast impressive health benefits. Beans contribute to heart health and also offer antioxidant protection. Plus, beans are a wonderful vegan protein source, with a half-cup serving providing over 7 grams of protein.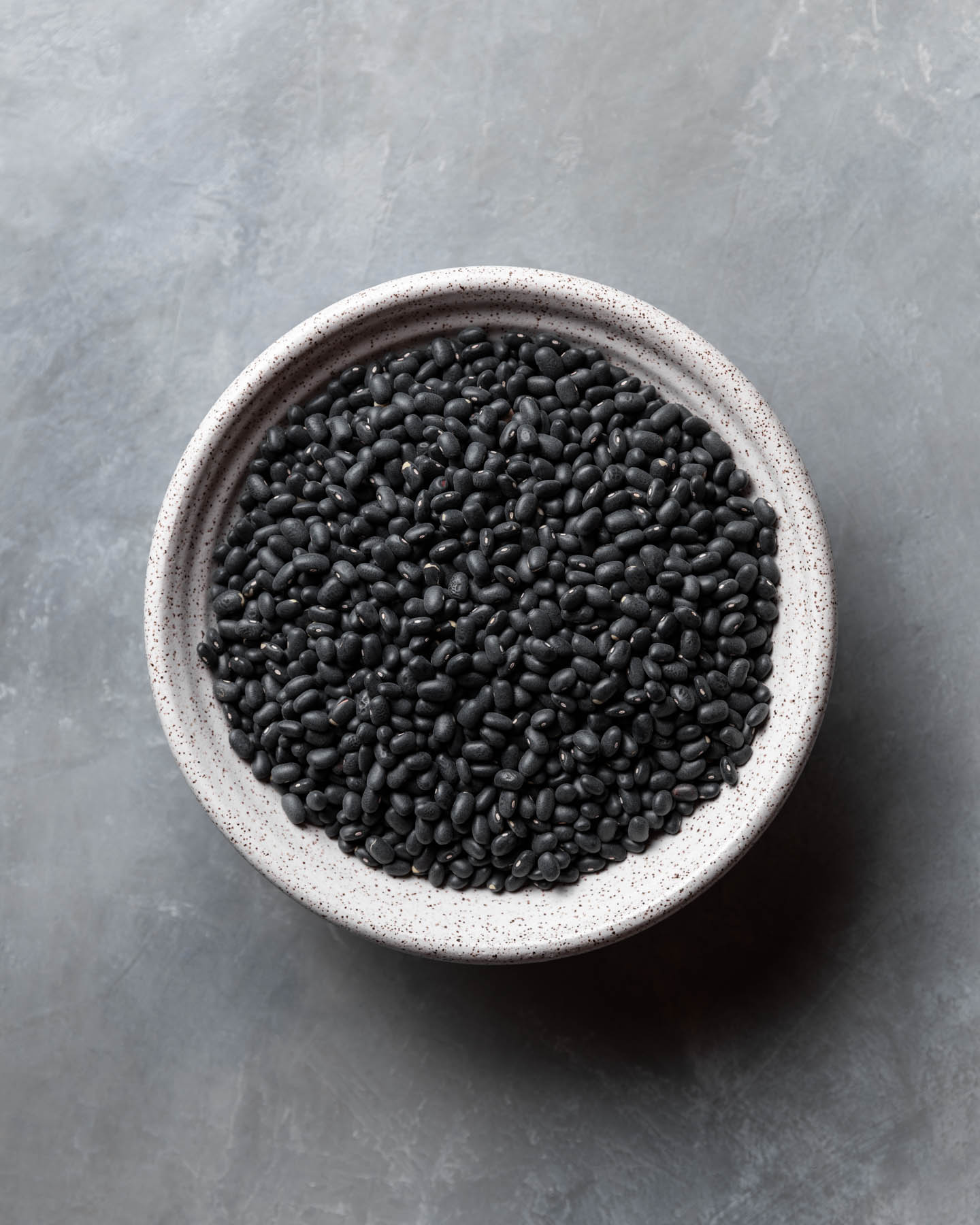 This hearty dish is the perfect cross between a salad and a grain bowl. The spicy roasted cauliflower is complimented by creamy avocado and tangy vegan sour cream. All the ingredients come together to create a healthy and satisfying Mexican-inspired meal that will be loved by vegans and non-vegans alike.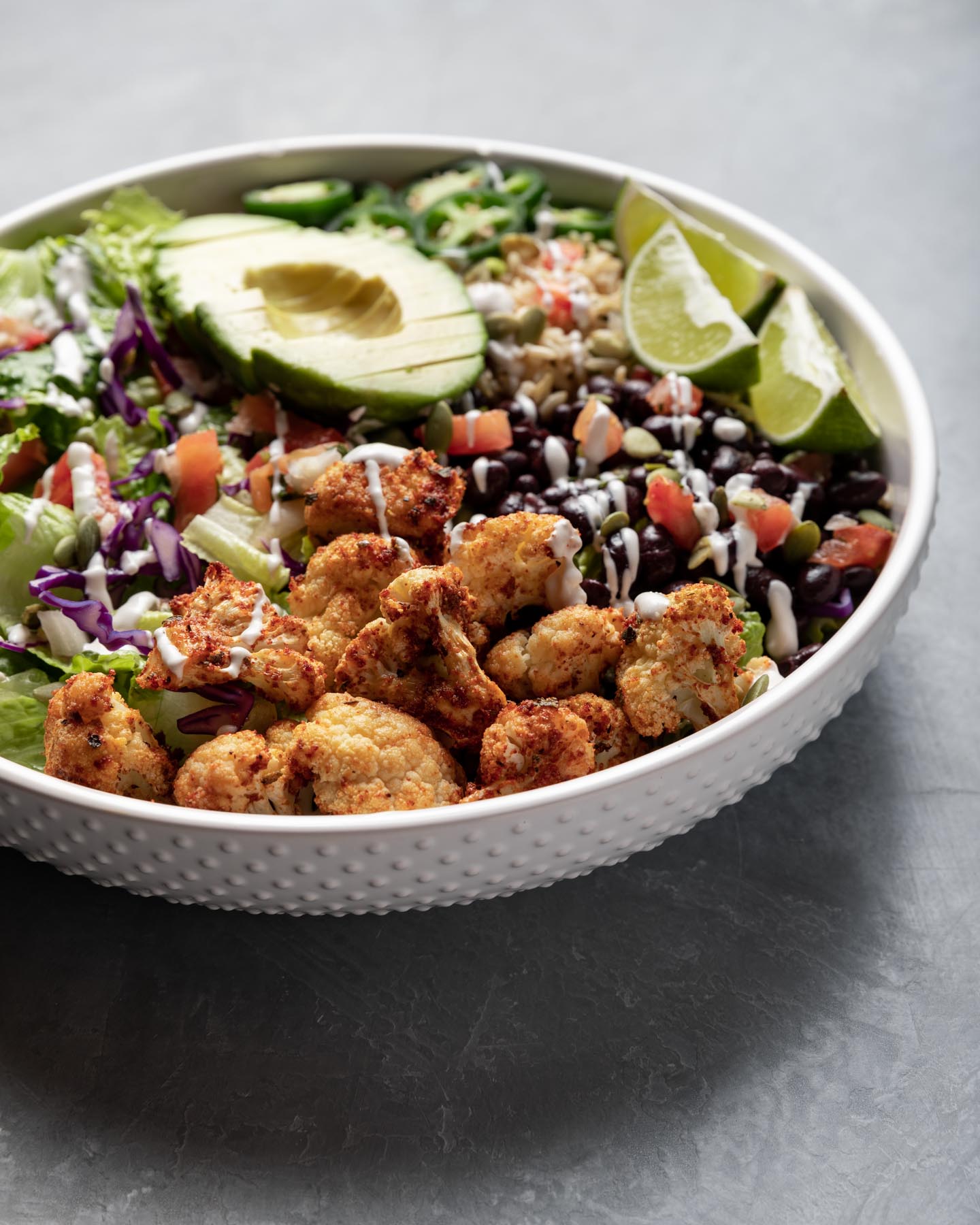 Print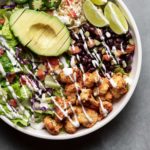 Vegan Mexican Bowl
Author:

Prep Time:

15 minutes

Cook Time:

50 minutes

Total Time:

1 hour 5 minutes

Yield:

4

servings

1

x

Cuisine:

Mexican
---
Description
Cauliflower is one of those subtle ingredients that acts as a blank slate, letting the spices and seasonings you use really shine. Here, chili powder, cumin, and cayenne transform the humble vegetable into a centerpiece of this meal. Roasting the cauliflower for a short time at high heat allows the florets to get crispy and caramelized.
---
Scale
Ingredients
1 ¾ cups

water

1 ½ tsp

sea salt, divided

1 cup

long grain brown rice

1

medium head cauliflower, cut into bite-sized florets

2 Tbsp

olive oil

2 tsp

chili powder

1 tsp

garlic powder

1 tsp

oregano

½ tsp

ground cumin

¼ tsp

cayenne

2

romaine hearts, chopped (about

8 cups

)

¼

medium head red cabbage, shredded (about

2 cups

)

1 ¾ cups

cooked black beans, or

1

15 oz can black beans, rinsed and drained

2

avocados, sliced

1 cup

salsa

¼ cup

pepitas

2

jalapeños, thinly sliced

1

green onion, thinly sliced
Vegan sour cream, optional

2

limes, cut into wedges
---
Instructions
Preheat oven to 450° F.
In a medium pot, combine water and salt and bring to a boil. Add rice, then cover, lower heat to a simmer, and cook 40 minutes. Leaving lid on, remove from heat and let sit 10 minutes. Fluff with a fork and set aside.
Meanwhile, prepare the cauliflower. In a large bowl, combine cauliflower florets with olive oil, chili powder, garlic powder, oregano, cumin, cayenne, and remaining ½ tsp salt. Toss well to coat. Place on a parchment-lined baking sheet and bake until tender yet firm, about 15 minutes.
Divide romaine equally between 4 serving bowls, then add shredded cabbage, beans, rice, and cauliflower. Top with avocado, salsa, pepitas, jalapeños, green onion, and vegan sour cream, if desired. Serve with lime wedges.
---