I'm always on the lookout for meal ideas that are quick to make and don't require lots of ingredients, and this recipe certainly fits the bill. This Roasted Red Cabbage with Lemon Tahini Dressing is a wonderful side dish to add to your weeknight repertoire. The roasting process elevates the cabbage to new heights by bringing out the vegetable's natural sweetness. Additionally, roasting at high heat creates a delightful melt-in-your-mouth texture punctuated by crispy edges, which is complemented by a rich and creamy lemon tahini dressing.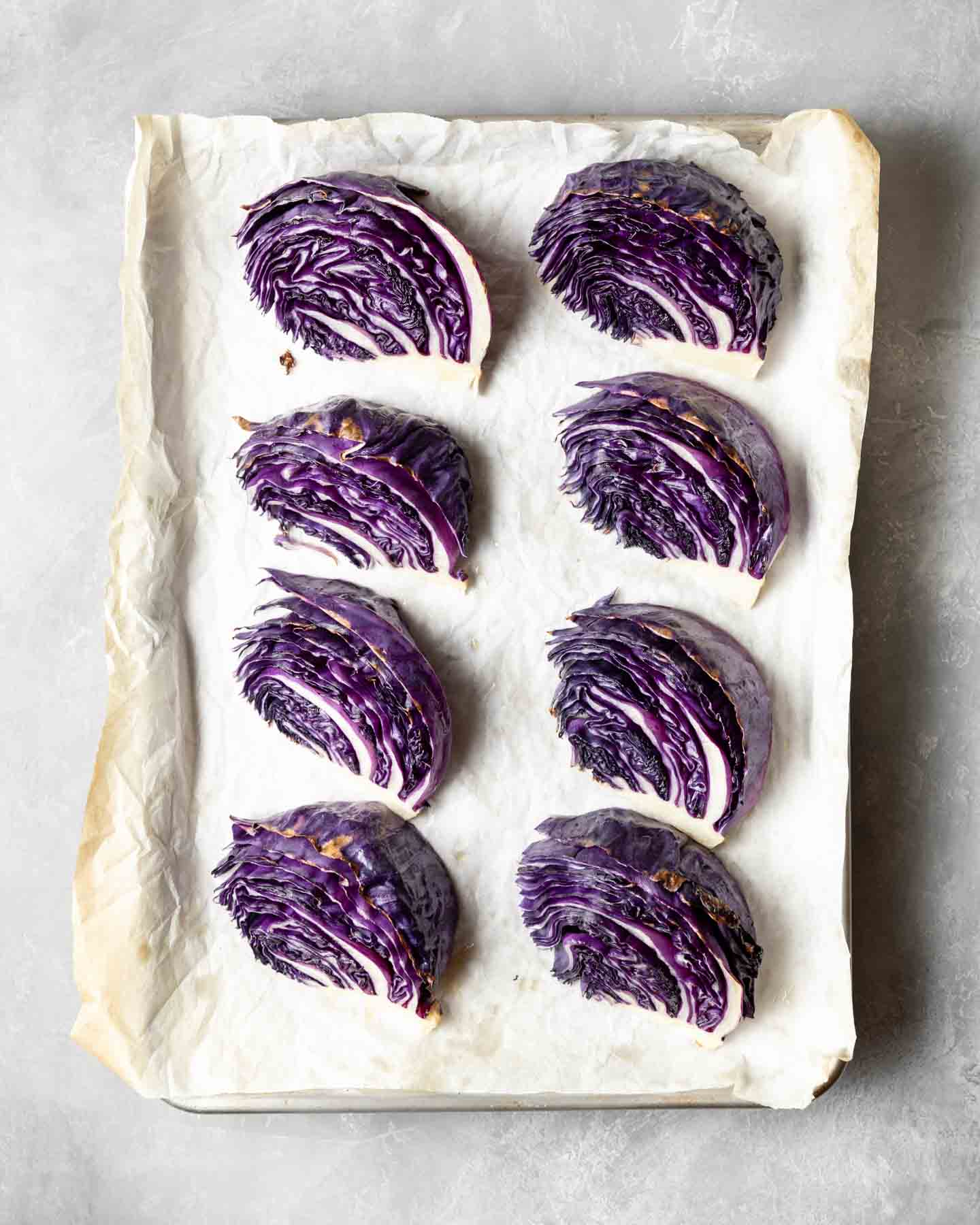 Cabbage Varieties
The humble cabbage is often overlooked in favor of its trendier relative, kale. However, cabbage is a nutritional powerhouse in its own right. Cabbage, part of the cruciferous family of vegetables, is a low-calorie yet nutrient-dense food. Cabbage is high in nutrients such as vitamin C, potassium, and calcium. Notably, cabbage contains compounds called glucosinolates, which have anticancer properties. In fact, the cabbage family contains a higher amount of these anticancer phytochemicals than any other family of vegetables.
There are three main types of cabbage:
Green, which is smooth in texture, with color ranging from pale to dark green
Red, which also has a smooth texture and red or purple leaves and white veining
Savoy, which has ruffled yellow-green leaves and a more mild taste
I used red cabbage here because I find it has a sweeter, bolder flavor than green or savoy. Plus, red cabbage gets its color from anthocyanins, which have great antioxidant benefits.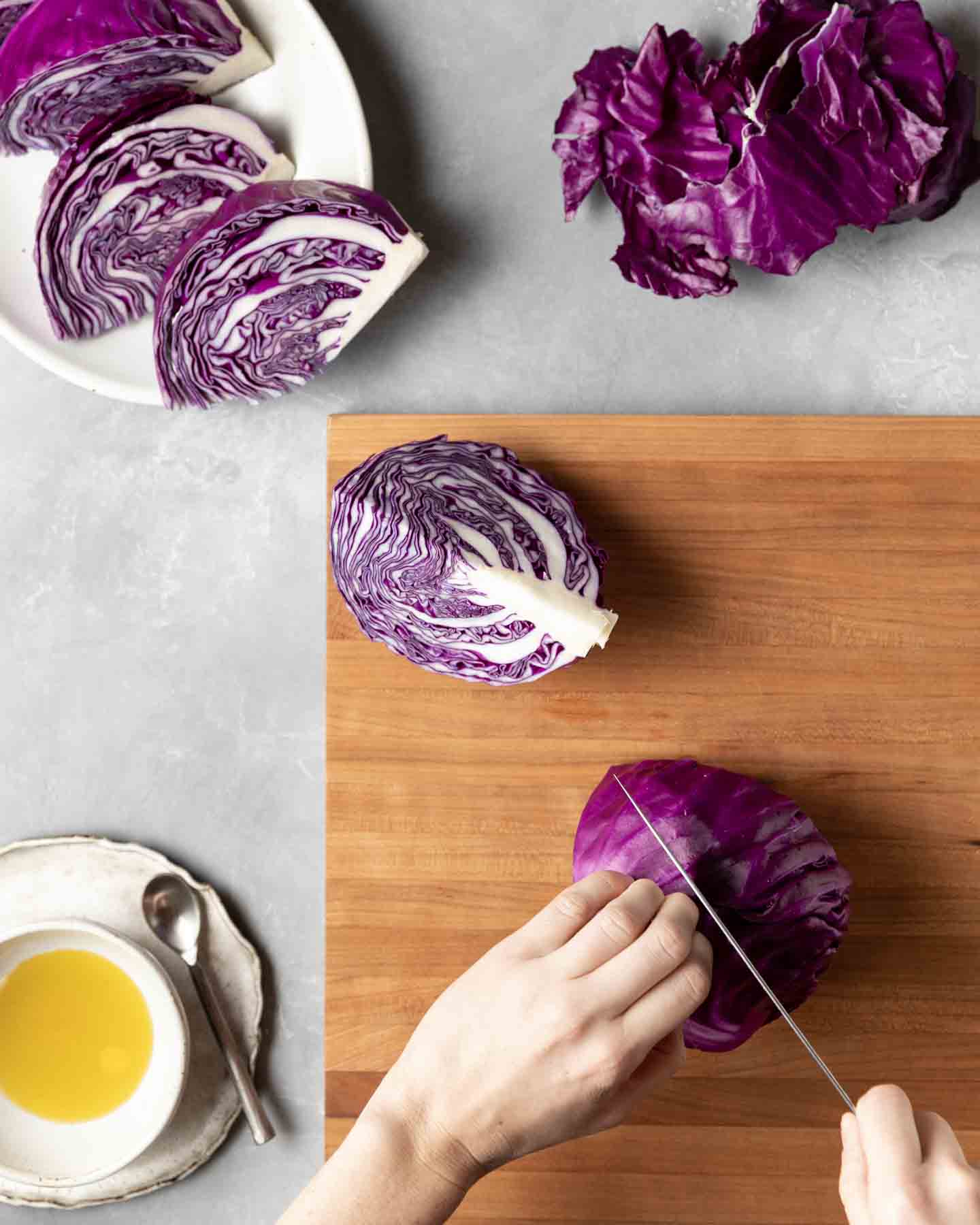 Let's Make Some Roasted Red Cabbage
This simple side dish comes together quickly and easily. Start with a whole head of red cabbage and remove any tough, damaged, or wilted outer leaves. Next, use a sharp chef's knife to cut through the cabbage lengthwise. Then, slice each of these halves into 4 equal wedges, for a total of 8 wedges of cabbage.
Make sure to leave the inner core intact, since that will hold the cabbage together during roasting. Finally, coat each cabbage wedge with olive oil and roast on parchment-lined baking sheets.
Depending on the size of your cabbage, you may need to use two baking sheets so that the cabbage wedges aren't crowded next to each other during roasting. Crowding will encourage the vegetables to steam up and get soggy, while having more space between them will help to achieve a crispier final result.
While the cabbage is roasting, move on to creating the simple lemon tahini dressing. First, whisk together lemon juice and tahini until creamy. Then, drizzle in olive oil while continuing to whisk constantly. The end result is a smooth and creamy lemon tahini dressing made with just 4 ingredients. It not only works perfectly for this dish, but is an incredibly versatile dressing that can be used on a wide variety of different salads, vegetables, grains, or legumes. Whip up some extra to keep on hand in the refrigerator!
Is Tahini Vegan?
Rest assured that tahini is indeed vegan! If tahini is a new ingredient to you, it's simply a paste made by grinding up sesame seeds. Tahini is traditionally used in Mediterranean and Middle Eastern cooking, but these days jars of tahini can easily be found in grocery stores or online. If you're feeling a little more adventurous, you can even make your own!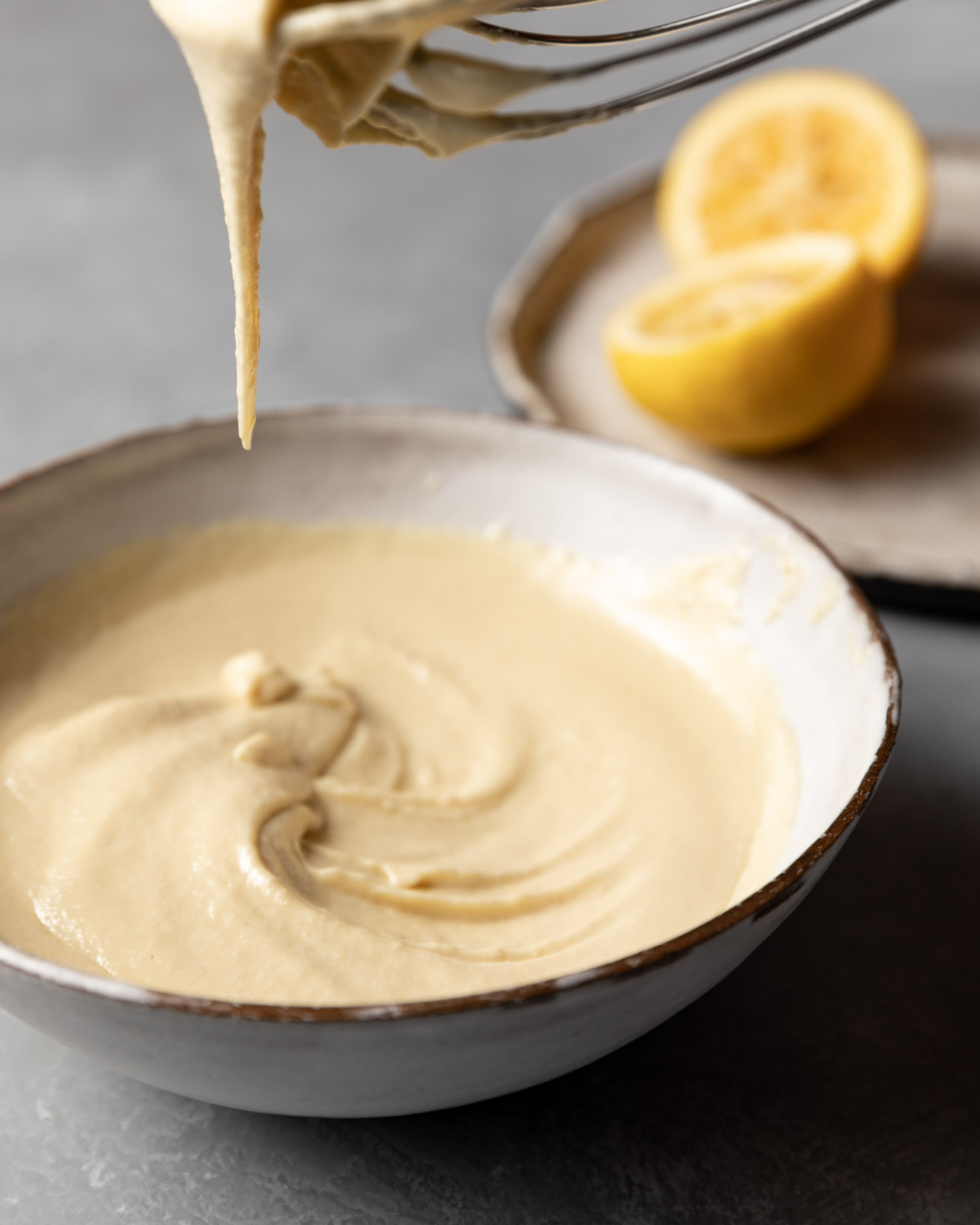 After roasting the cabbage, serve with your lemon tahini dressing and a sprinkling of freshly chopped parsley. To make this a full meal, enjoy the roasted cabbage wedges with my Black Lentil Pomegranate Salad or my Farro Sweet Potato Salad.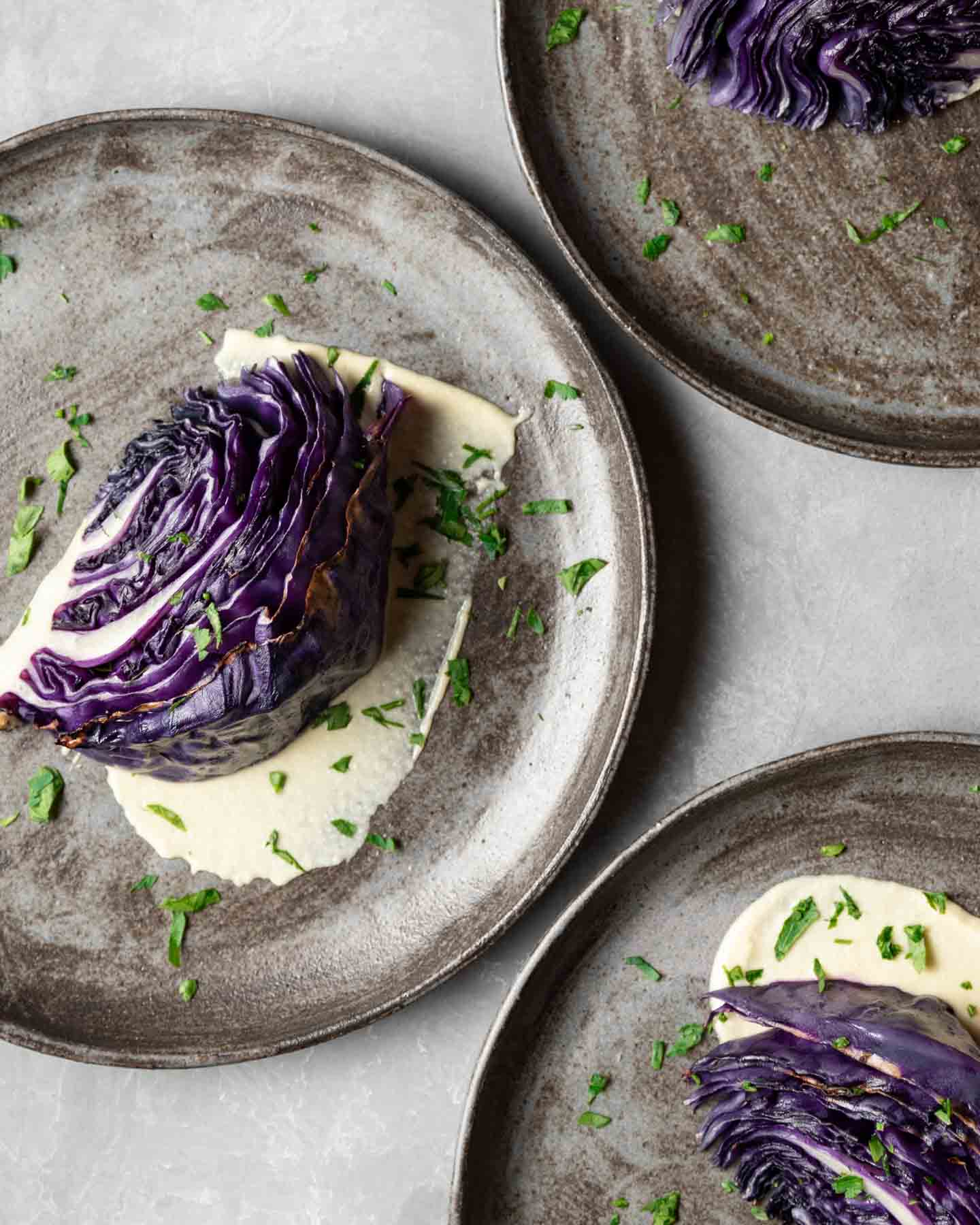 Print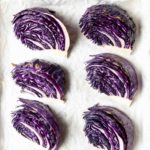 Roasted Red Cabbage With Lemon Tahini Dressing
Author:

Prep Time:

15 minutes

Cook Time:

30 minutes

Total Time:

45 minutes

Yield:

8

servings

1

x
---
Description
The roasting process elevates cabbage to new heights by bringing out the vegetable's sweetness and creating a delightful melt-in-your-mouth texture punctuated by crispy edges. Finished here with a lemon tahini dressing, the cabbage would be a perfect canvas for any variety of sauces or dressings.
---
Scale
Ingredients
1

medium red cabbage

¼ cup

plus 3 Tbsp olive oil, divided

¼ cup

lemon juice

¼ cup

tahini

¼ tsp

sea salt

2 tsp

finely chopped parsley
---
Instructions
Preheat oven to 450° F.
Divide cabbage in half lengthwise, then slice each half into 4 equal wedges, leaving core intact to hold wedges together.
Drizzle cabbage wedges with 3 Tbsp of the olive oil and rub to coat both sides.
Place cabbage on a parchment-lined baking sheet and bake until crispy, about 15 minutes. Flip cabbage and continue cooking to crisp the other side, about another 15 minutes.
Meanwhile, prepare the dressing. In a medium bowl, whisk together lemon juice and tahini until well combined and creamy. Slowly drizzle in the remaining ¼ cup olive oil, whisking constantly until dressing is smooth and emulsified. Add salt and stir to incorporate.
To serve, sprinkle the cabbage wedges with parsley and drizzle dressing on top.
---