This Buckwheat Breakfast Bowl is an easy, healthy, and delicious way to start your morning. Vegan and gluten-free, this satisfying breakfast has only 6 ingredients and comes together in minutes. Tender morsels of buckwheat that have been quickly simmered in coconut milk and maple syrup are topped off with juicy slices of blood oranges to make a quick and hearty breakfast.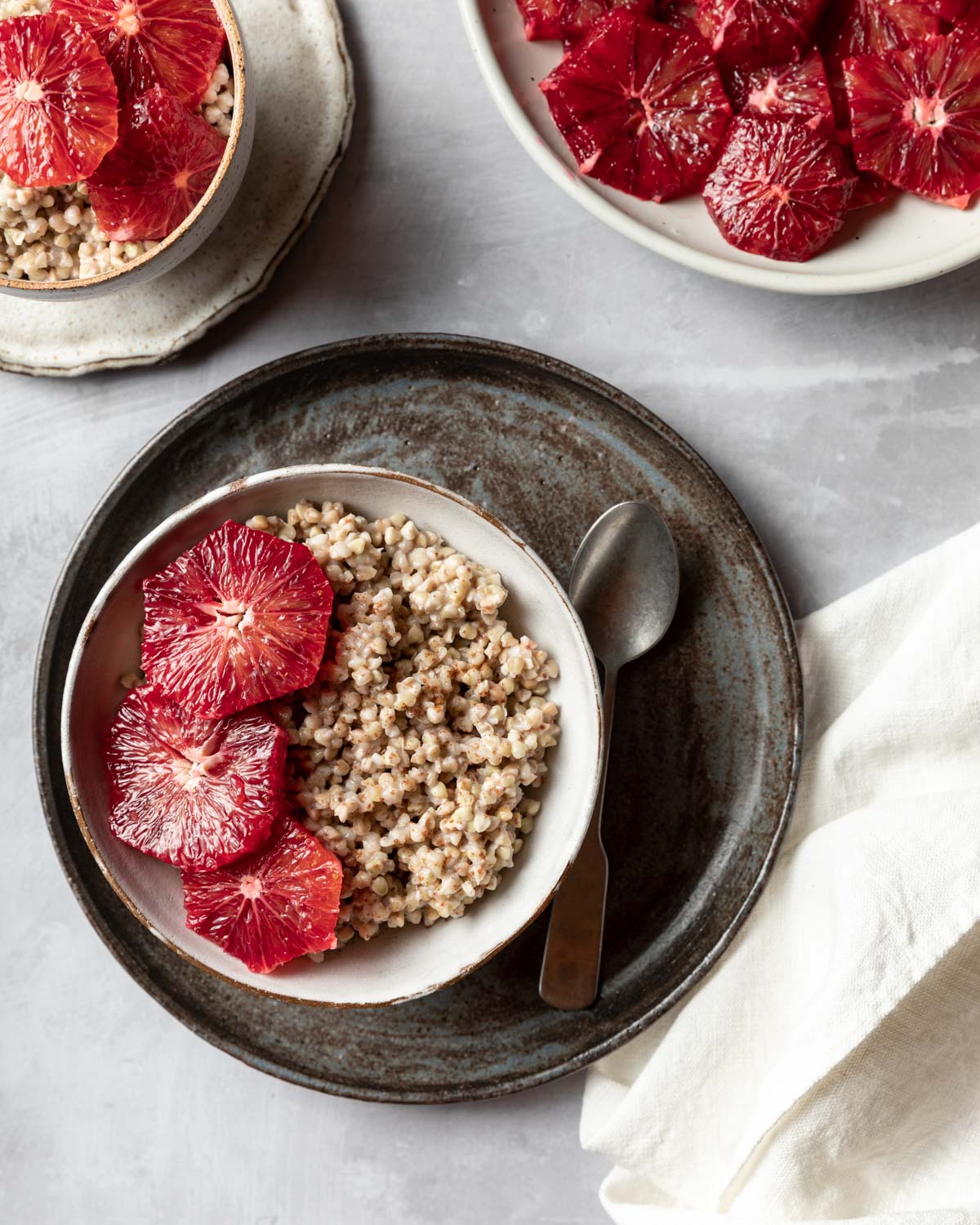 What is a blood orange?
Blood oranges are believed to have originated in the southern Mediterranean, where they have been grown since the 1700s. Blood oranges are a variety of citrus named for their deep red hue. The color of the flesh can range from blush to deep red to almost purple in color, depending on the type of blood orange. Likewise, the taste can also vary depending on the type of blood orange. For example, the Tarocco variety is known for its sweetness, while Moro blood oranges may have a bit more bitterness. In general, blood oranges have a taste that is stronger than regular oranges, but with a unique undertone that is hard to pinpoint. They are often described as tasting slightly like raspberries or grapes.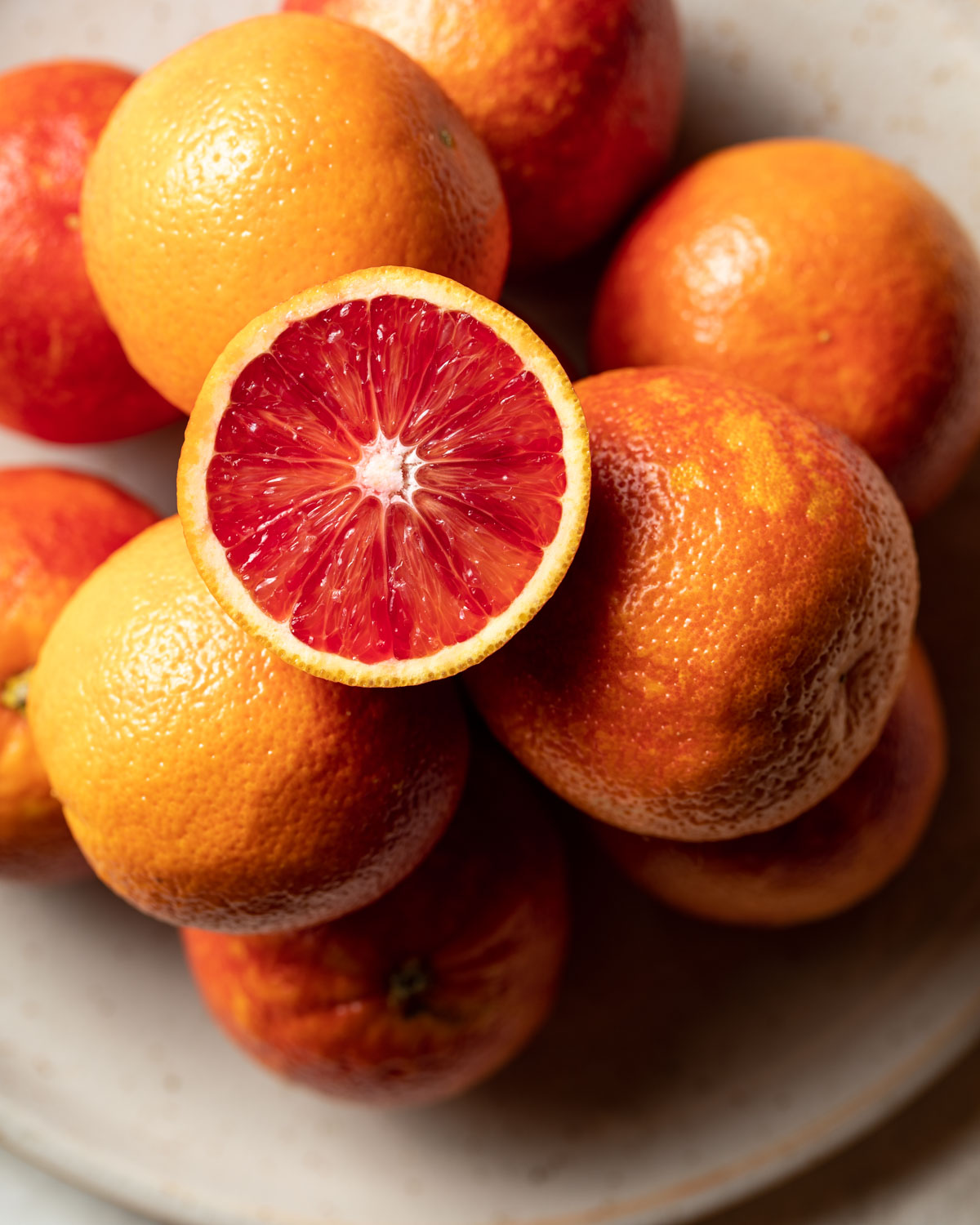 What if blood oranges aren't in season?
Admittedly, blood oranges have a short growing season. Additionally, they can be tough to find depending on what area of the world you live in. In the United States, they are typically grown in Florida, Texas, and California, and then shipped to the rest of the country. They are generally available between December and May.
If you have blood oranges available, then definitely savor them in this recipe! However, there are plenty of substitutions you can make if blood oranges are unavailable to you. Try one of these ideas depending on what season it is:
In the winter, citrus such as navel oranges, mandarins, or grapefruit would work wonderfully in this recipe
During the spring, enjoy this bowl with some freshly picked cherries
In the summer, this bowl would be perfect topped with a handful of your favorite berries or slices of stone fruit, such as peaches or plums
During autumn, enjoy this breakfast bowl topped with pomegranate seeds, kiwi, or slices of apple
Similar to oatmeal or porridge, this buckwheat mixture is mild enough to pair well with a wide variety of different fruit flavors, so feel free to substitute your favorite seasonal fruits in this recipe.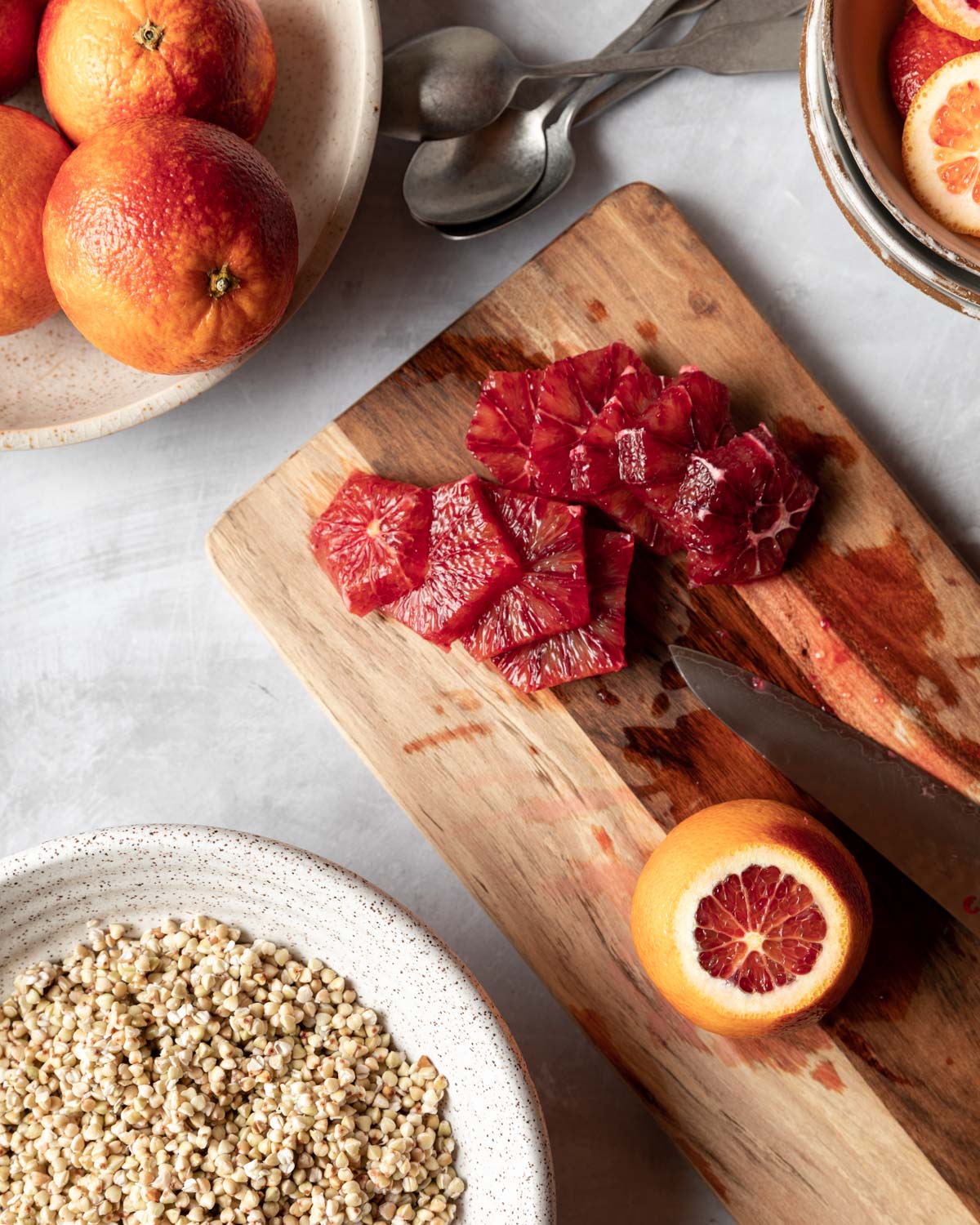 What is buckwheat?
Despite the name, buckwheat has no relation to wheat. Although buckwheat looks and acts like a grain, it is actually a fruit seed related to rhubarb. Buckwheat also happens to be gluten-free, which makes it a great grain substitute for people with allergies or sensitivities. A good source of protein, fiber, and magnesium, as well as health-promoting flavonoids, buckwheat is a fabulous ingredient to incorporate into your everyday cooking.
Buckwheat groats are available raw, which is what's used in this recipe, as well as roasted, which is also known as kasha. Since roasted buckwheat has a much stronger and earthier taste, I highly recommend using raw buckwheat for this recipe because the flavor is more subtle and lets the fruit flavors take center stage.
How to prepare buckwheat
In this recipe, the raw buckwheat groats are soaked for at least one hour or overnight in order to soften the buckwheat groats.
To simplify the preparation, start soaking the buckwheat the night before you intend to prepare it. Simply place the buckwheat groats in a large bowl, add enough room temperature water to cover the buckwheat by at least one inch, then cover the bowl. This can be left out on the counter overnight, and then in the morning you can continue with the preparation. By starting the soaking the night before, it will only take about 10 minutes to put this breakfast together in the morning.
Once the buckwheat has been soaked, rinse very well using a strainer. The soaking water will be slimy, but this is totally normal, so don't worry! The sliminess is simply caused by starch being released into the soaking water.
Next, drain the rinsed buckwheat groats thoroughly. Finally, simmer the softened groats in the coconut milk mixture until heated through and serve with blood orange slices or your favorite seasonal fruit. This delicious breakfast comes together quickly and will keep you full all morning long.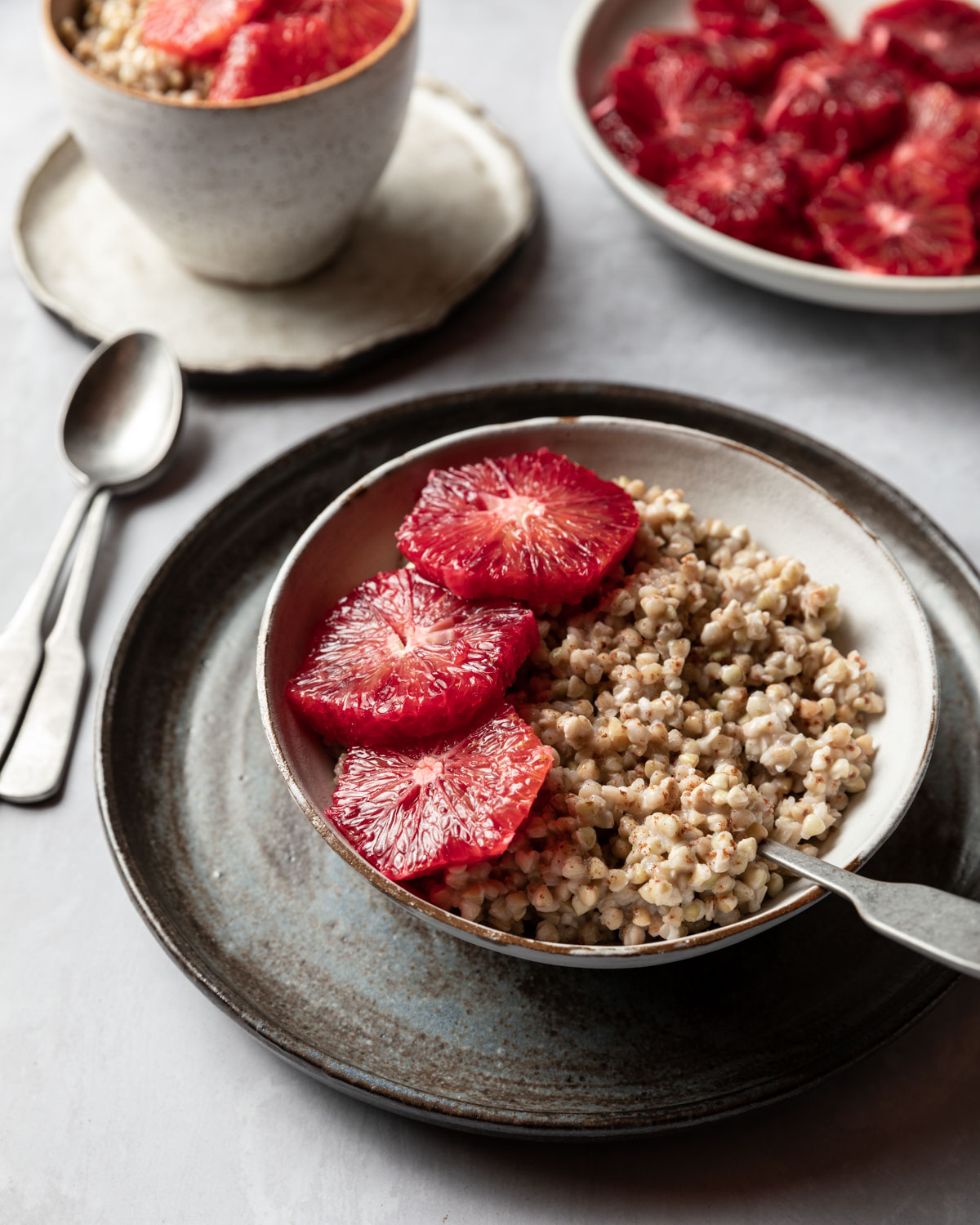 If you tried this Buckwheat Breakfast Bowl, be sure to let me know by leaving a comment and rating below! If you liked this recipe, try my Pomegranate Chia Pudding for another quick and easy breakfast option.
Hungry for more?
Follow along on Instagram, Pinterest, and Facebook for all my latest updates!
Print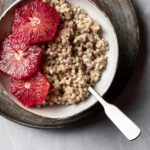 Buckwheat Breakfast Bowl With Blood Oranges
Author:

Prep Time:

1 hour 5 minutes

Cook Time:

5 minutes

Total Time:

1 hour 10 minutes

Yield:

4

servings

1

x

Category:

Breakfast

Method:

Stovetop

Cuisine:

American
---
Description
Despite its name, buckwheat has no relation to wheat, and is actually a seed in the rhubarb family. The hearty texture and mild flavor of raw buckwheat makes it a great gluten-free grain substitute. Packed with more fiber than oatmeal, it is also a great source of protein and antioxidants.
---
---
Instructions
In a fine mesh sieve, rinse the soaked buckwheat very well until the gelatinous residue from the soaking liquid is removed. Set aside to drain.
In a medium pot, whisk coconut milk, maple syrup, and vanilla extract over medium heat until creamy and well combined, about 1 to 2 minutes.
Add drained buckwheat and stir gently until incorporated and heated through, about another 2 to 3 minutes. Remove from heat and divide evenly among 4 bowls.
Sprinkle with cinnamon and top with blood orange slices.
---
Notes
If blood oranges are unavailable, feel free to substitute regular oranges, or your other favorite fruit such as apples, pomegranates, or berries.